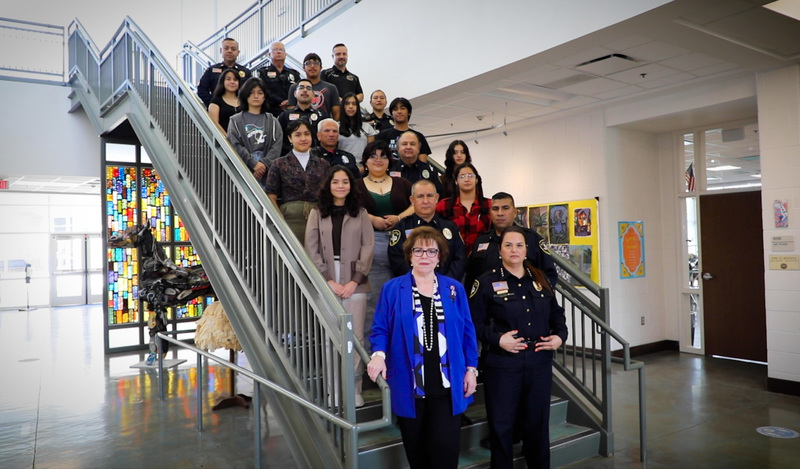 The Laredo Independent School District Police Department, alongside the Health and Occupational Safety Support Services Department, are implementing the new "See Something, Say Something" campaign to help district schools become more aware of out-of-the-ordinary activity.
The See Something, Say Something campaign is a national campaign that raises public awareness on the importance of reporting suspicious activity to state and local law enforcement. According to the U.S. Department of Homeland Security website, historically , the slogan "If You See Something, Say Something" was originally implemented and trademarked by the New York Metropolitan Transportation Authority (NY MTA) after a terrorist attack on September 11, 2001. "After doing some research on this campaign we decided to spearhead it to give the students and staff an opportunity to report any suspicious activity happening in and around our schools," LISD Police Department Chief Doreen Hale said.
Community awareness and support is a vital component to keeping LISD schools safe. LISD Safety, Risk, and Emergency Management Director Victor Mora explains how the collaboration and community partnerships with law enforcement and emergency management teams need to be strengthened, including communication with parental engagement, all of which are critical to the success of a safe school environment.
"As school safety and security continue to concern parents, the need for heightened awareness and preventive methods is critical and needs to be a priority for our students and staff," Mora added. "Consistent layers of protection for instructional facilities, students, employees, visitors and community need to be in place, practiced and actively monitored. School safety and security is everyone's responsibility."
Signs of any suspicious activity are the following: expressed or implied threat to commit a harmful crime, surveillance or prolonged interest in an unusual manner, theft/loss/diversion, eliciting information, misrepresentation, cyberattacks, sabotage/tampering/vandalism, or weapons collection.
"School safety is important because all stakeholders, including school district employees, have the responsibility to ensure that our students and staff have a safe place to learn and experience academic, emotional, physical and social growth," Mora said. "School safety is a number one priority at LISD because school violence has become more present around the country over the last few years. We must initiate safety and security measures that will offer violence prevention, preparedness, mitigation, response and recovery skills in case a violent incident occurs in a school setting. Our schools must be ready to respond with appropriate actions so education and preparedness drills are a vital part of enhancing a school culture of safety and security."
All students, staff and any other stakeholders are encouraged to call 956-273-1452 or email seesay@laredoisd.org for immediate assistance.