Five Martin High School Criminal Justice students received in-depth disaster preparedness training at the Community Emergency Response Team (CERT) camp at Texas State University in San Marcos, Texas.
The CERT program is a nationally supported, locally implemented initiative that teaches students how to better prepare themselves for hazards that may affect the community. CERT trained the students in basic disaster response skills such as team organization, action planning, leadership skills, disaster medical operations, fire safety, and light search and rescue.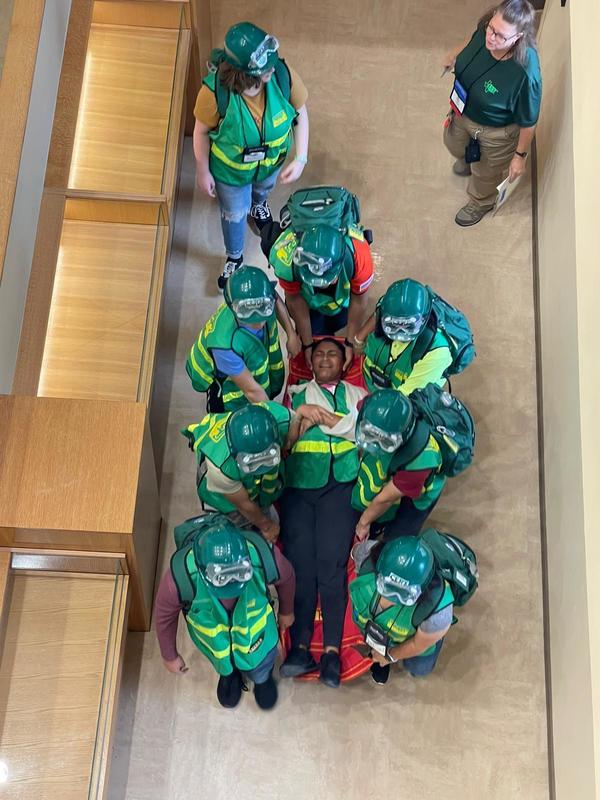 "As a school and community, we need to better prepare ourselves for any type of emergency from first aid to evacuating someone. This camp helped the students understand and see what it takes to respond to an emergency," MHS Criminal Justice Teacher Deborah Sepulveda said. "The training prepared us to be able to help our community in case of an emergency. The camp made the students aware of their abilities to help and serve their school and community during any type of event."
The students who participated in this camp were Alondra Carlos, Valerie Carlos, Monserrat Mosqueda, Kayla Rodriguez, and Sara Ramos; accompanied by Sepulveda and Spanish Teacher Sugey Mendiola.
The five-day program trained the students in Disaster Preparedness, CERT Organization, Disaster Medical Operation, Disaster Psychology, Fire Safety and Utility Controls, Light Search and Rescue Operations, and Terrorism and CERT. The first two days consisted of lectures and team building activities. For the remainder of their time, the students conducted multiple hands-on activities where they had the opportunity to practice many of the medical operations such as inserting a sling and a tourniquet, applying pressure to a wound and properly wrapping the wound.
In addition to their safety training, the students learned the proper procedures for a search and rescue. As part of their activity, the students had to extract someone by carrying them or putting them on a chair. As a team, the students were taught about fire safety and how to use a fire extinguisher through a small live demonstration.
"The students alternated within different groups. As part of their crucial training, they had to respond to various scenarios that tested what they learned. The scenarios consisted of critical thinking where students had to make decisions, search and rescue, and provide medical care," Sepulveda added. "The camp did an awesome job in keeping the students engaged and on task. We encourage others to apply. It is a good opportunity to learn something new and be involved with our community to be better prepared."
Through their hard work, perseverance, and their determination working 14 hour days, the students received a FEMA Community Emergency Response Team (CERT) Basic training that includes a CERT certificate of completion. They also developed a community action plan as a team, and acquired the leadership skills needed to address emergency preparedness in their school or community.
As part of their requirement and completion of the program, the students will work closely with the district and its community to conduct necessary assessments and develop a successful plan for specific needs as part of their final project.