Laredo Independent School District recognized Martin High School JROTC student Alexis Gonzalez as LISD's 2022-2023 Superior Cadet. Gonzalez was honored during the Superior Cadet Ceremony which was held at the LISD PAC in the Dr. Marcus Nelson Conference Center.
LISD Superintendent Dr. Sylvia Rios offered some words of wisdom to the cadets on the responsibilities they have as citizens. Special guest speaker LISD Board Member Juan Ramirez addressed the cadets and thanked their parents and JROTC sponsors for guiding the students.
"A big congratulations to Alexis for her hard work and dedication. She represents the very best of her school and she wears her uniform with pride," said LISD Superintendent Dr. Sylvia Rios.
Gonzalez was inspired to join JROTC after seeing other cadets in their dazzling uniforms helping at school events. Alexia serves as a Tiger JROTC Executive Officer. JROTC has impacted Alexia significantly giving her a purpose and life goal.
"When they called my name, I was nervous and surprised. "I couldn't believe that all my hard work would lead to a recognition like this," said Gonzalez. "ROTC has helped me with my academics, discipline, and values. I highly recommend JROTC for everyone."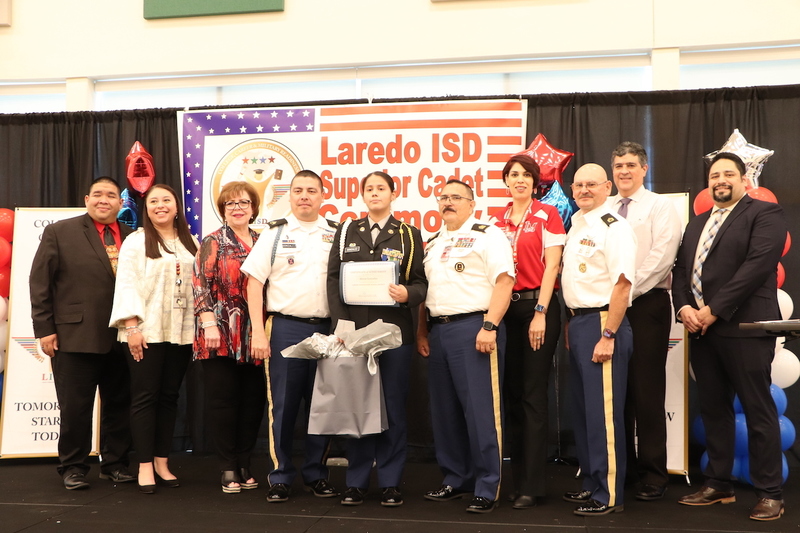 Alexia's most memorable experience as a JROTC cadet was participating in Raider competitions and serving in the Honor Guard during last year's graduation. Alexia plans to become a Marine after graduation.
Gonzalez, along with other cadets from LISD's three JROTC Programs, had been recognized as LISD's Honorable Cadets for their qualities and leadership skills as cadets who demonstrate outstanding capabilities as active members of their community through service, self-discipline, responsibility, and respect.
LISD Honorable Cadets for 2022-2023 were also recognized during the ceremony. They are Cristina Ramirez, Yamileth Rojas, Jennifer Rodriguez, and Julianna Eller of Nixon High School, Lucien Lozano, Mauricio Ferrer, Sherlyn Gomez, and Roel Merla of Cigarroa High School, and Roberto Trevino, Andrea Reyes, and Sarah Aker of Martin High School.
The Martin High School JROTC, under the direction of Sgt. Major Juan Hernandez, presented the colors. LISD JROTC cadets Jennifer Rodriguez and Lucien Lozano led the Pledge of Allegiance and Texas Pledge. Guests enjoyed a BBQ lunch which was prepared by the Cigarroa, Martin, and Nixon High Schools Culinary Arts students. The recognition was conducted by LISD's ROTC Program and the LISD College, Career and Military Readiness Department.
LISD created this initiative to recognize JROTC Cadets who are leaders not only in their squad/campus, but in their community as well. They are an evident example of the JROTC mission, "To Motivate Young People to be Better Citizens."
Martin High School has 98 cadets and is under the direction of Sgt. Major Juan Hernandez. The Nixon High School JROTC, which has 102 cadets, is under the direction of Lt. Col. Bennie Feagan. The Cigarroa High School JROTC, under the direction of Stg. 1st Class. Conrado Martinez, has 104 cadets.
To be considered an Honorable Cadet, the student must have submitted a completed application with their information, resume, two letters of recommendation (non-JROTC Instructor) one recommendation letter from JROTC Instructor, essay, and cadet challenge score.
For more information, please contact LISD College, Career and Military Readiness Coordinators, Cindy Dominquez at 956-273-1864 or Mayra Garcia at 956-273-1863.