Laredo ISD librarians and librarian assistants were recognized during a luncheon in celebration of National Library Week. During the recognition luncheon, Patricia Sosa of Cigarroa High School was selected and honored as LISD's 2023 Librarian of the Year.
For four years, Sosa leads her team with heart by empowering her library aides to create activities and initiatives that appeal to the students. Through teamwork, creativity, and dedication, the CHS library has been kept as beautiful and festive for all Toro Nation to enjoy each celebration together.
Time and Time again, she selflessly offers her assistance to students and staff at any school functions taking place as she continuously collaborates with CHS parent liaison, local community organizations such as Communities in School coordinator, Gear-Up Facilitator, and Laredo College on multiple special projects throughout the year to encourage literacy.
During the luncheon, City of Laredo Mayor Pro-Tem Council Member Vanessa Perez proclaimed the week of April 11-15, as National Library Week in Laredo and Webb County. LISD Board Vice President Ricardo Garza and LISD Superintendent Dr. Sylvia Rios addressed the audience. All LISD librarians and librarian assistants were also recognized with a token of appreciation on behalf of the district.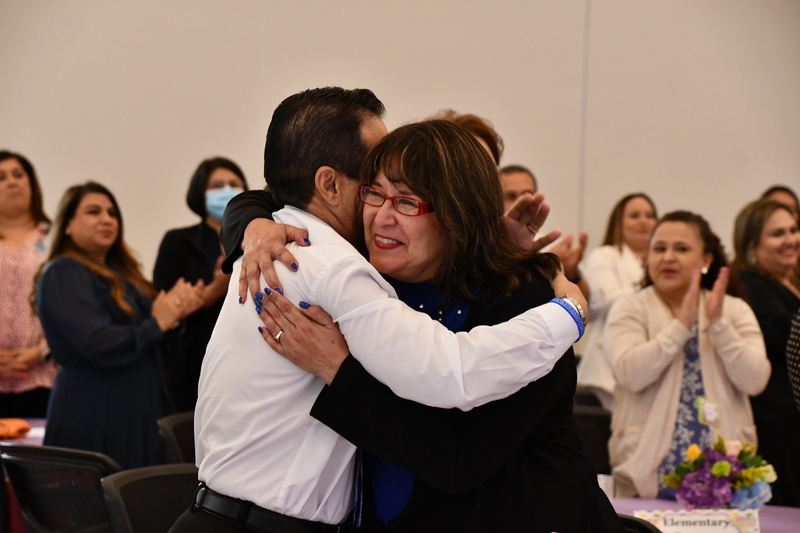 "This really is a true founding moment for me. I feel like an Academy Award winner," Sosa said. "I do want to thank all of my administration, my colleagues, my family, and my assistants for all of their dedication and their support that they have given me these past four years."
As an avid reader, Sosa participates in collaborative lessons with colleagues. In collaboration with the English Language Arts department, she was able to provide poetry lessons to students. The lessons included guidance on crafting poems and helped them brainstorm new ideas for their own literary piece. As a result of this collaboration, ELA teachers along with Sosa, were able to submit 130 poems to the Laredo Public Library Annual Poetry Contest.
"Her hard work truly shines for the Pride of South Laredo. She not only keeps our library accessible with great resources but the library truly is the heart of the activities that take place on campus. Her staff is always at service and I'm very proud that she is our librarian," CHS Principal Jose Iznaola said. "I know that is the case at every school at LISD. Every librarian has the pride of service embedded in them, but I have had the privilege of seeing it in Mrs. Sosa and Toroland is very blessed to have her. I don't know who else is more deserving than her."
Sosa has launched new initiatives such as a CHS Reading Challenge where students are encouraged to read three books of different genres, write a short essay for the fiction titles, and answer some guiding questions for nonfiction titles. Once completed, students submit their proof of reading to the library, qualifying them for incentives such as goodie bags and lunch in the library, along with fun and engaging activities for students to mingle and get to know one another.
Additionally, every morning Sosa presents weekly book talks during announcements. Every Monday, she shares an intriguing hook for a book she recommends for students. These book talks expose all students and teachers to new genres in the school's library and online databases. The talks allow listeners to catch a snippet of books designed to entice them to visit the library and find out what happens next.
As CHS Library Club Coordinator, Sosa motivates her students to develop their social skills. Furthermore, to expose inclusivity, Sosa provides help and exposure of the school's special education and Hearing Impaired students by collaborating with the American Sign Language teacher to develop the library's collection to include an adequate representation of the students population and offer support services.
"Parents and students are more than welcome to come to any LISD library and utilize its available resources. We are here to help in any way possible and it's always a pleasure to service our LISD family," Sosa added.