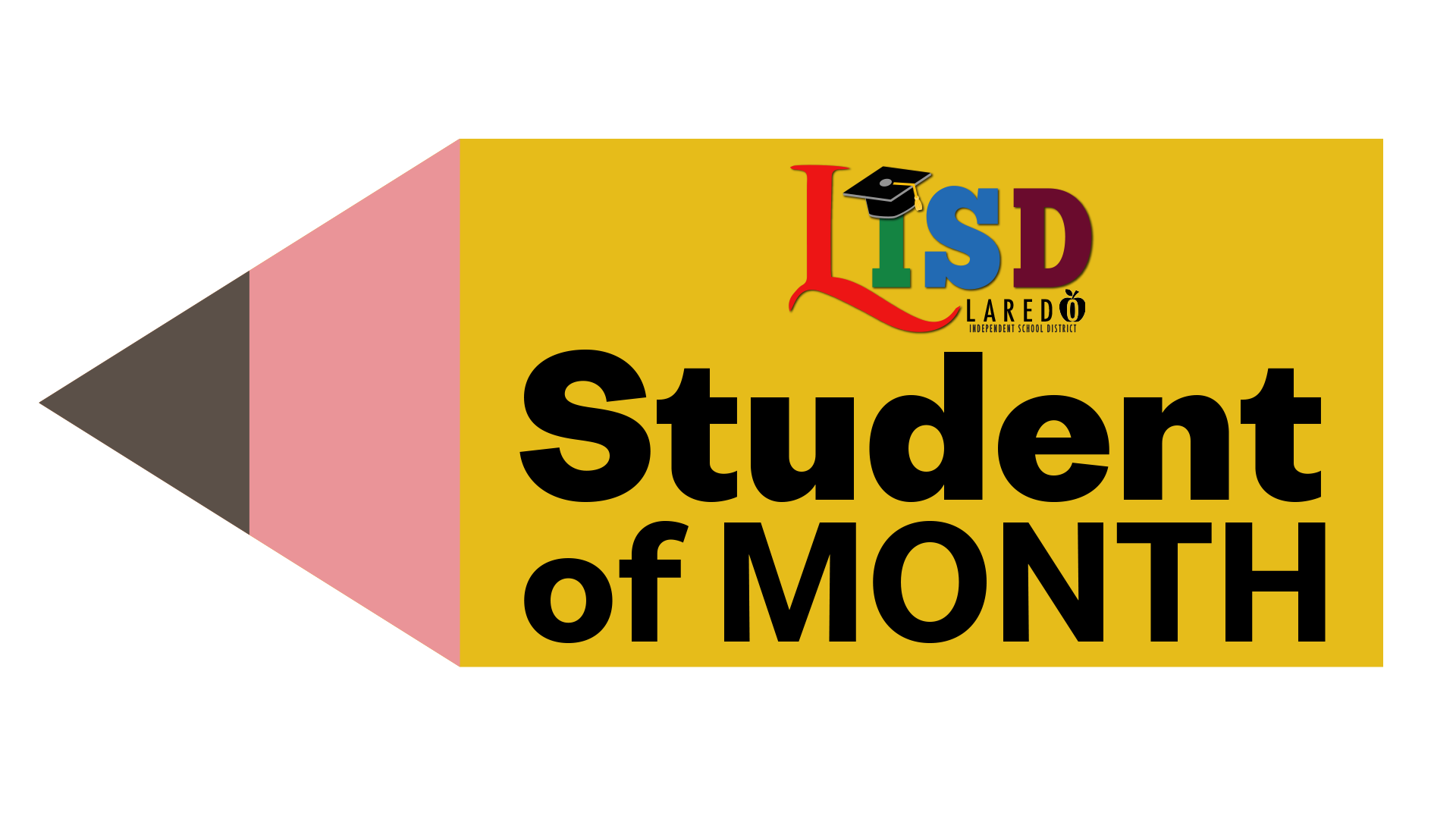 Welcome to LISD's Student of the Month for high school and middle school students for the 2023-2024 school year.
This recognition program is designed to recognize a worthy student for their exemplary academic efforts, community service, citizenship, athletics, or volunteer service.
Thank you to our sponsors at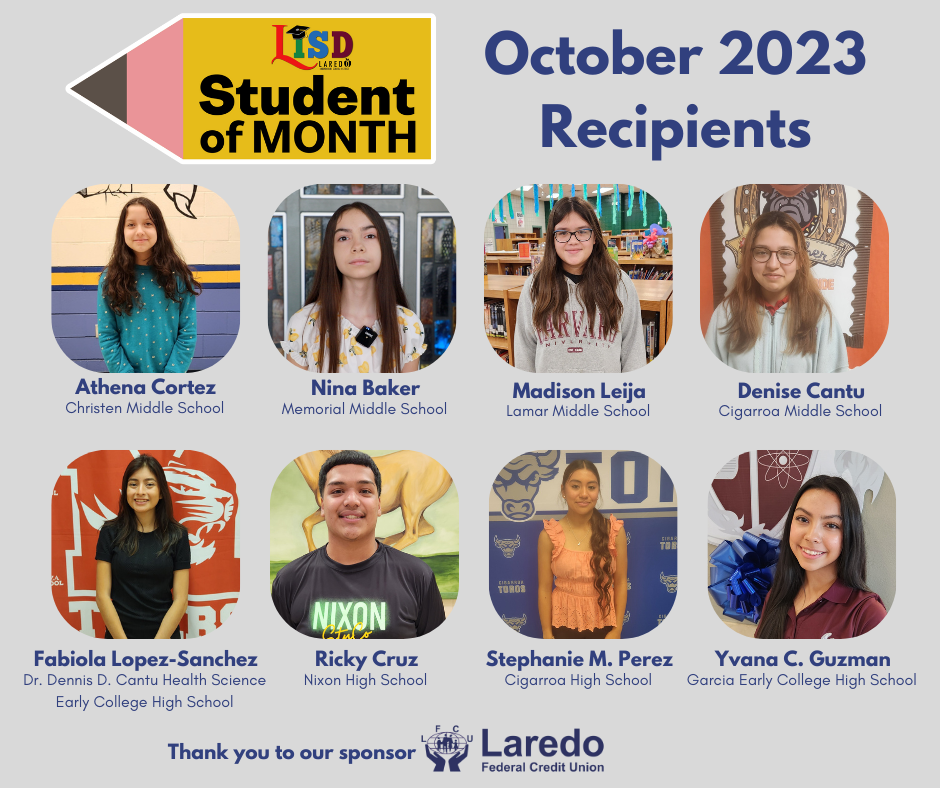 Christen Middle School sixth grader, Athena Cortez is an honor roll student and a proud member of the school band. As a member of the mighty Cubs band, she dedicates her musical talents playing the saxophone. Athena is also a member of the Student Council.
Athena enjoys attending her favorite classes and spending time with her friend and drawing. Her favorite part of the school day is when she is doing what she loves most drawing in her art class. She plans on joining the school's Art Club this year.
Athena has not decided what she would like to pursue as a career, but she looks forward to continuing her educational journey by attending college.
She attended Milton Elementary School and plans to go to Martin High School. Athena is the daughter of Joshua and Sherline Cortez.
A product of Bruni Elementary School, Nina Baker is an eighth grade student at Memorial Middle School. She is an intelligent young lady whose name is always listed on the school's A/B Honor Roll. She participates in UIL Spelling, UIL Oral Reading, UIL Ready Reading, and UIL Impromptu Speaking. Nina is a member of the art club and student council.
Nina was selected to participate in the district's Secondary Science Fair in sixth grade where she placed third, as well as in seventh grade. Her favorite part of the school day is when she is in her art class.
In her spare time, she likes to read books and paint. In fact, she joined the Art Club this year which she is truly loves. At home. she paints rocks and small crafts with her little sister which they place outside their house for the neighborhood to enjoy.
Nina will be going to the Garcia Early College High School and plans on attending Texas A&M University to get her bachelors and master's in education degree to become a teacher or principal. Her main goal is to attain a doctoral degree and later become a superintendent.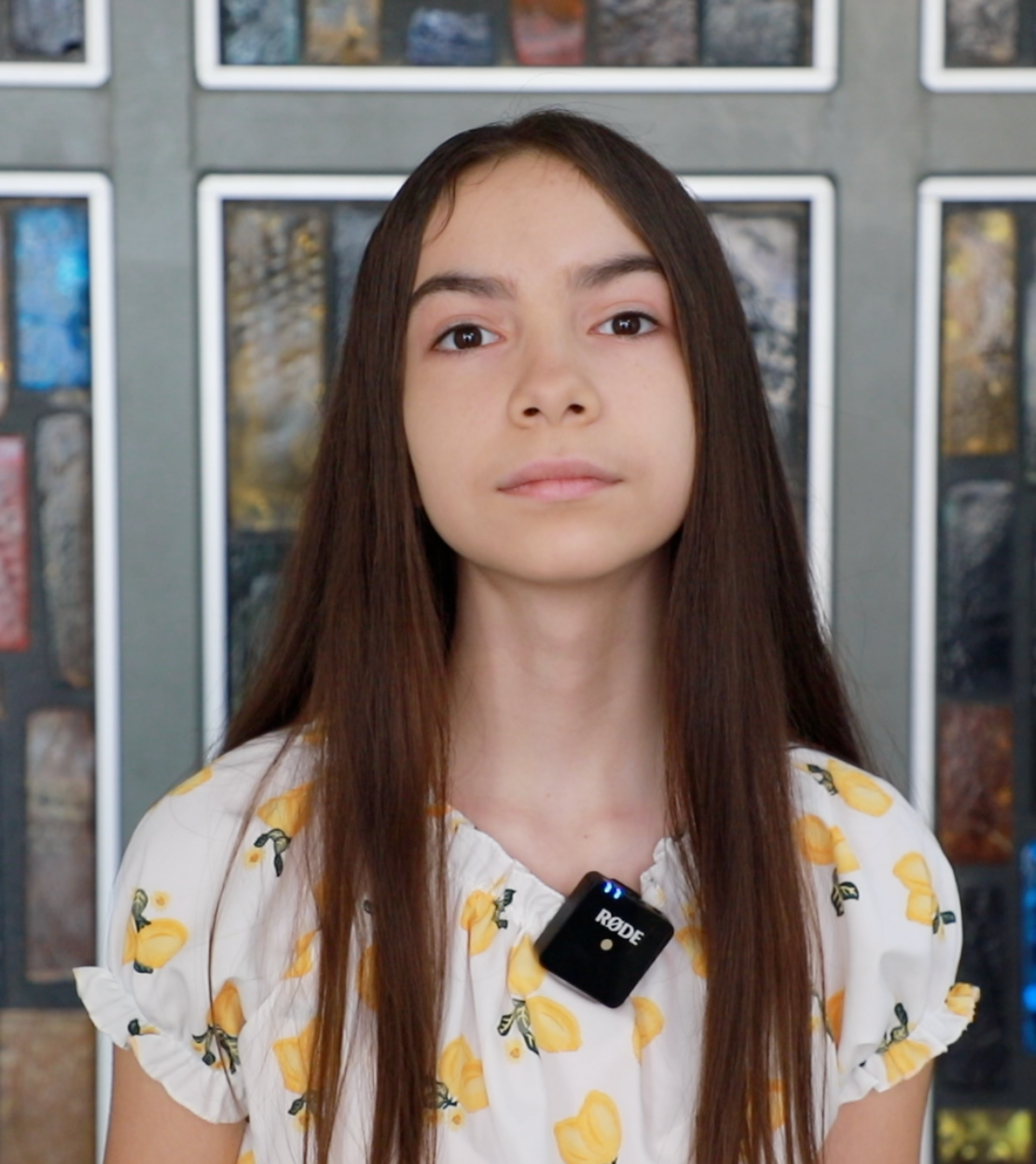 With a unique blend of talent, Lamar Middle School eighth grader Madison Amber Leija is achieving extraordinary heights by excelling in academics, the fine arts, and athletics. She is consistently on the honor roll and is currently enrolled in honors courses including Algebra.
She is a gifted violinist and has even taken up singing as a member of the school's choir. Madison is also a fierce competitor on the court, as she is a vital member of the Lamar Middle School Volleyball Green Team. According to Madison her favorite part of the school day is athletics. She is also a member of the cross-country team and the yearbook staff. Outside of school, she dedicates her time to the Golden Heart Project.
She will be attending Nixon High School and the Vidal M. Trevino School of Communications and Fine Arts. Madison plans on pursuing a degree in Criminal Law at Harvard University or any Ivy League school. She hopes to become a lawyer.
Madison attended Ryan Elementary School. She is the daughter of Michael and Valerie Leija.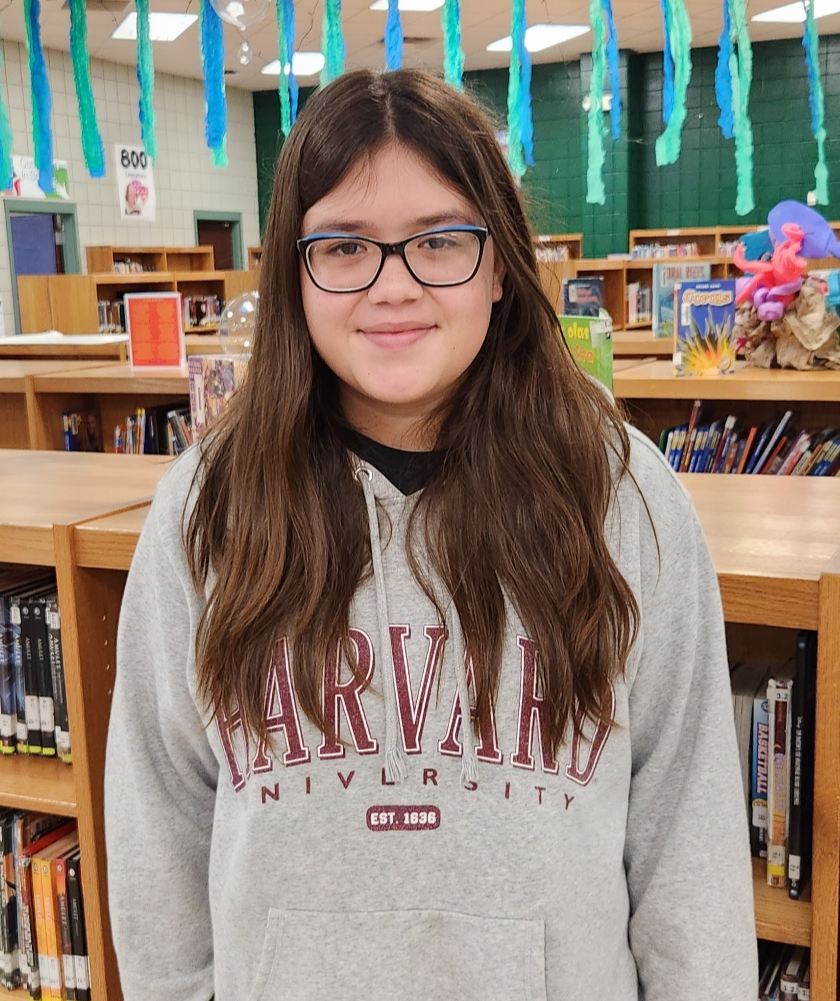 As an active member of the Cigarroa Middle School community, and a three-year member of the school band, eighth grader Denise Cantu was given the honorary placement of Drum Major of the mighty Bulldog band this school year. She is an Honor Roll student and is enrolled in academically advanced classes that include honors algebra. She enjoys coming to school every day to expand her knowledge and learn about different subjects.
Denise is a member of National Honor Society, UIL Dictionary, UIL Math, and UIL Calculator. Since sixth grade, she has been ana very active in the school band where she plays the trombone. She is also running for Homecoming Queen.
Her future goal is to be doing something that helps her community or helps people even if it is just one person she still wants to help. She is undecided on her future, but she is very interested in becoming a medical doctor or teacher to help people This past summer she participated in a summer teacher program which really piqued her interest.
Denise attended Kawas and Santo Nino Elementary Schools. She is going to Cigarroa High School and possibly the Vidal M. Trevino School of Communications and Fine Arts. Her parents are Martin Cantu and Karina Arvizu.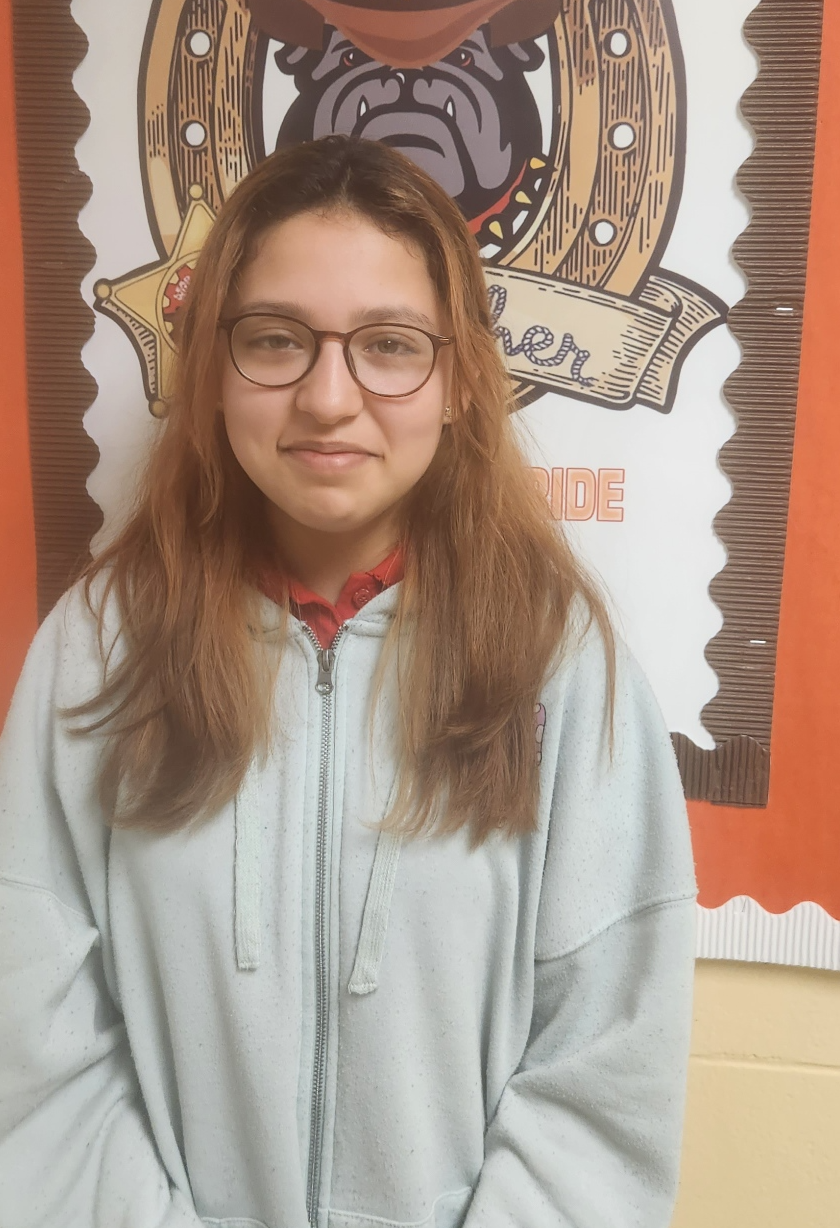 With a 4.0 GPA, and ranked second in her class, Martin High School senior Fabiola Lopez-Sanchez has attended LISD schools since kindergarten. An AP honors scholar, she is also a student at the Dr. Dennis D. Cantu Health Science Early College High School where she has become American Red Cross: CPR and AED certified, American Heart Association: CPR and AED certified, and American Red Cross: Stop the Bleed certified.
This past summer, she participated in a clinical internship with Doctors Hospital at Renaissance in Edinburg Texas. While there she practiced Phlebotomy, executed intubation into the GI Tract, accomplished inserting a urethral catheter, as well as becoming a published researcher. Fabiola and her group published their findings on the benefits of GLP-1 agonists.
She is a member of the National Honor Society, Superintendent's Student Advisory Council, Theater Arts Club, UIL One Act Play, UIL Prose and Poetry, and Health Occupations Students of America (HOSA). Last year she was recognized by the College Board with the National Hispanic Recognition certificate, placed fourth at the HOSA Area 7, in Prepared Speaking, All-Star Technician at the UIL One Act Play Bi-District, and in 2022 was honorable mention All-Star Cast in UIL One Act Play District.
Fabiola is dual enrolled at Laredo College and will graduate with an associate in science degree in May. She is proficient in MS Word, PowerPoint, and Excel, and Canva. Her main goal is to attend TAMIU or UTRGV to pursue a degree in Chemistry followed by medical school. She hopes to become an anesthesiologist. Fabiola attended Alma Pierce Elementary School and Lamar Middle School. She is the daughter of Russbel and Teresa Lopez.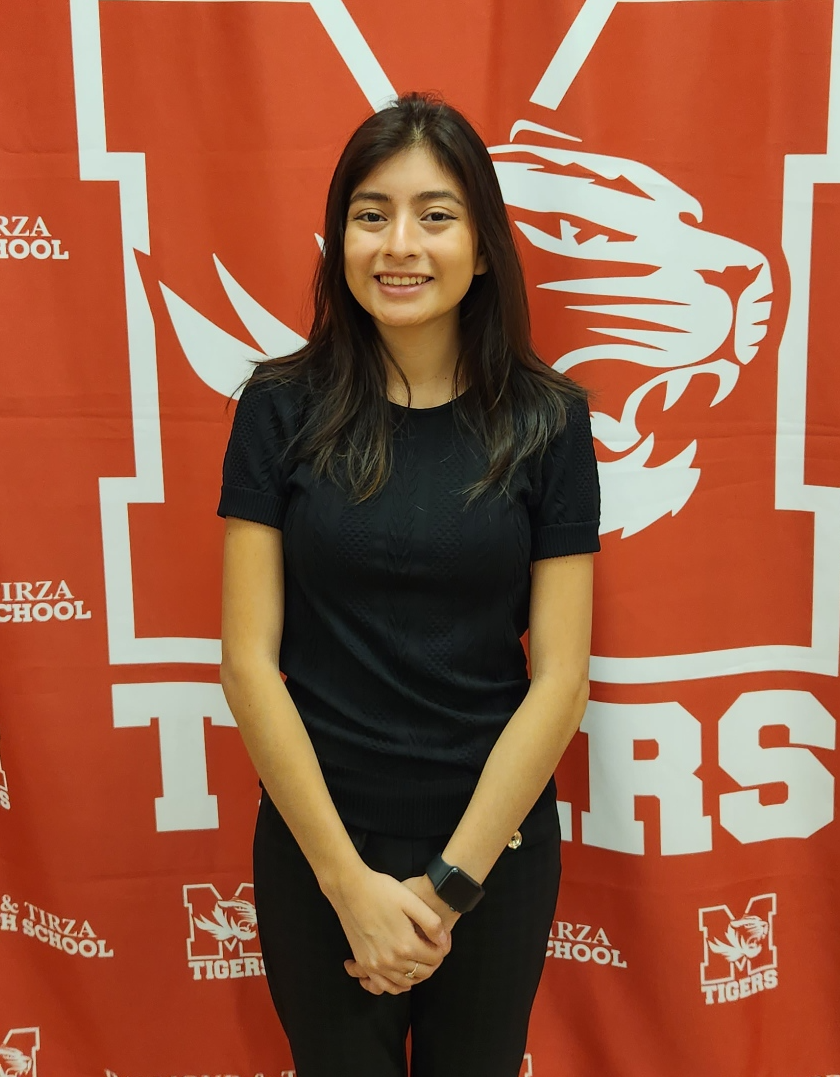 If there is a special event happening on campus, more than likely Nixon High School senior Ricky Cruz goes above and beyond in supporting the different organizations on campus. Ricky is this year's Senior Class President and has shown phenomenal leadership with his peers.
He is President of the Senior Class and Student Council. He is a member of the Superintendent's Student advisory Council, Interact Club, and Gear-up. Ricky also volunteers at the school pep rallies and participates in the gift exchange prior to each football game. He is certified in in Criminal Justice -Security.
Ricky plans to attend Laredo College and TAMIU to pursue a degree in education. He plans on becoming a teacher or principal.
Outside of school, he like to spend time with his family and cooking out. Ricky attended Alma Pierce Elementary School and Lamar Middle School. He is the son of Adrian Cruz and Rocio Garcia.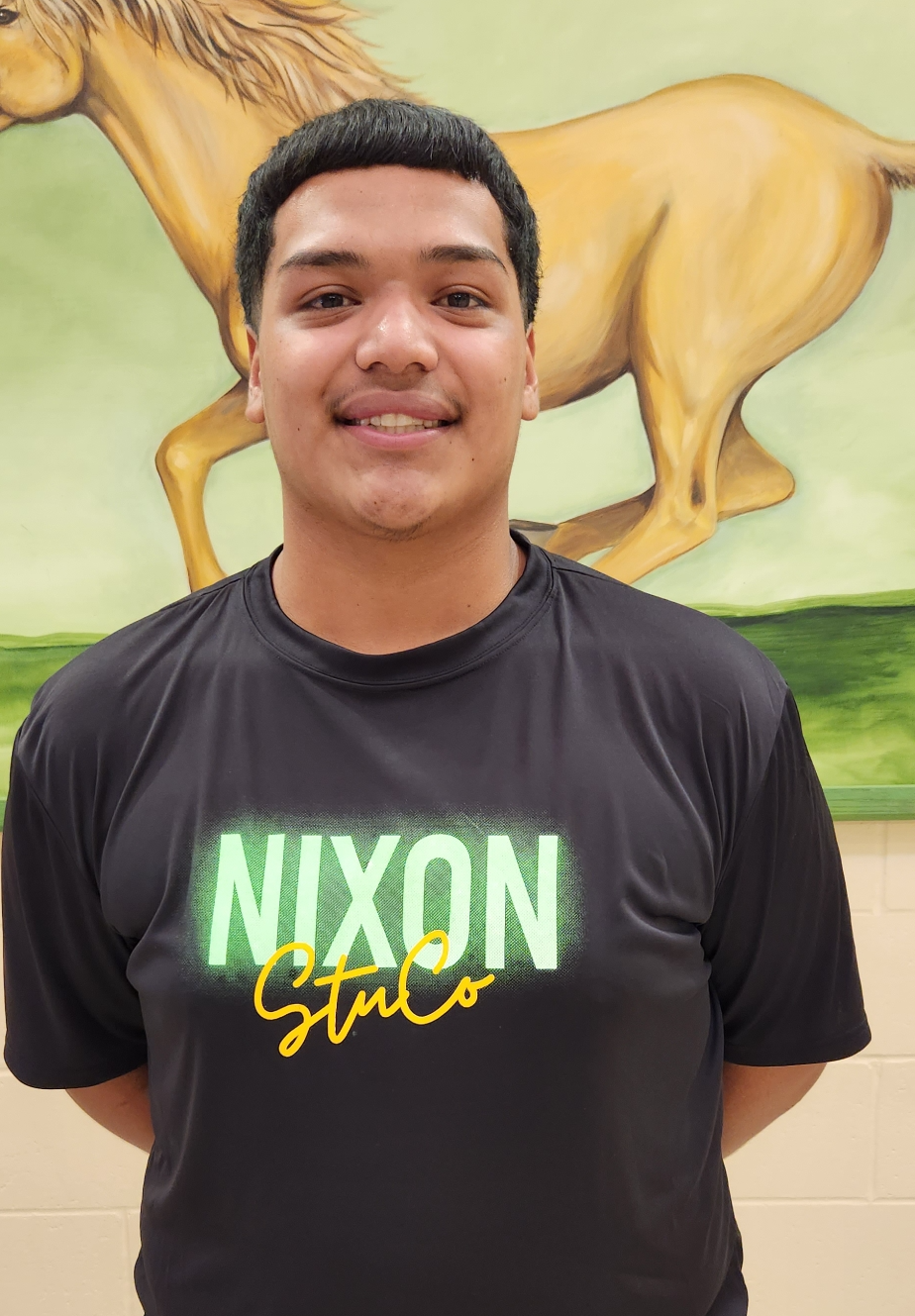 An 11th grade Criminal Justice student at Cigarroa High School and dual enrolled at Laredo College, Stephanie M. Perez is working towards graduating in the top 10 percent of her class and is currently ranked ninth.
Stephanie's favorite part of the day is attending her first period Criminal Justice class and afterschool when she participates in various extracurricular activities on campus. She is a member of the Girls Cross Country Team, where she is also the social media manager, Library Club, National Honor Society, Communities in School, Health Ambassador for a Ready Texas (HART) and SCAN SASSI Program.
She is a proud member of the American Sign Language (ASL) Club. As a member of the ASL Club Stephanie helps promote deaf culture on campus and in the community. She and members of the ASL Club will sign the National Anthem at an upcoming football game.
She is certified as a Microsoft Office Specialist (Word and Power Point). Her future goal is to help other people either as a social worker or anything involving law enforcement. In her spare time, Stephanie like to listen to music, read books, and play the guitar. She attended Ligarde Elementary School and Cigarroa Middle School. Her parents are Jesus and Rosario Perez.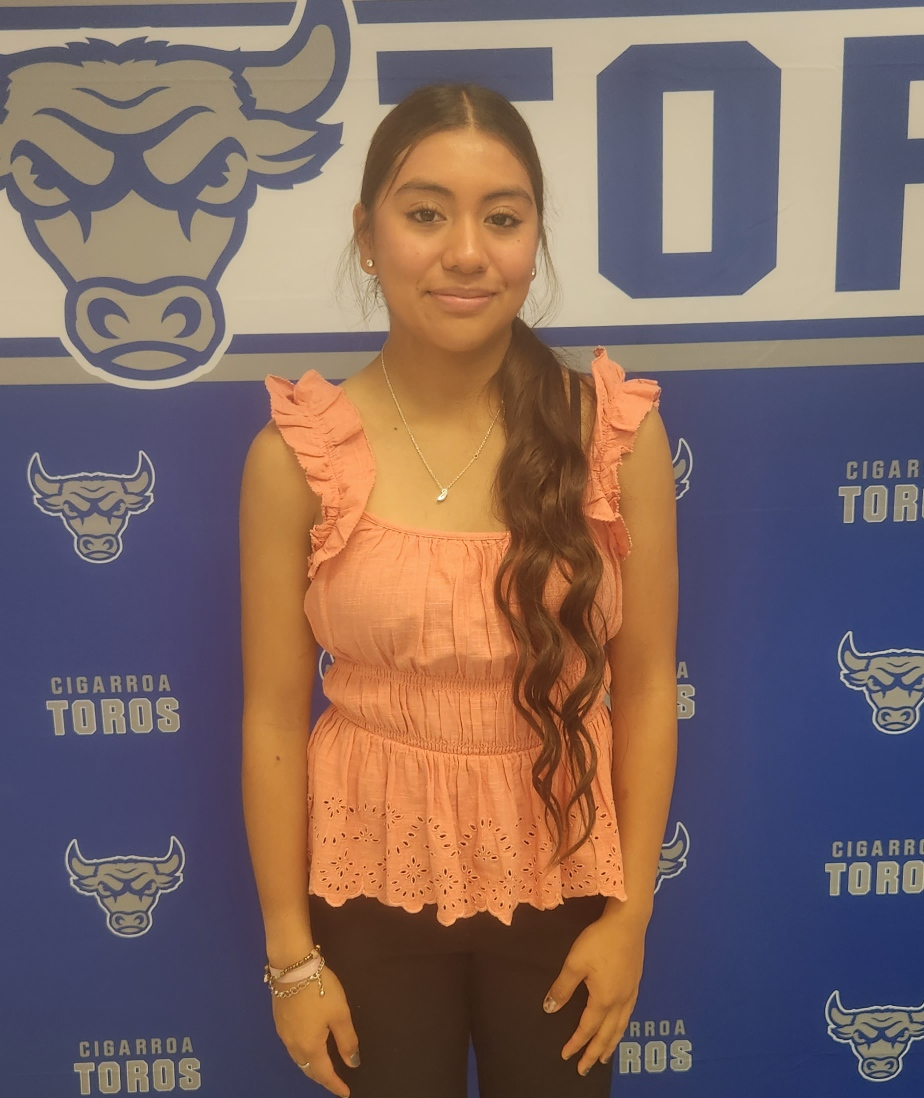 Yvana Guzman is a 10th grade student Garcia Early College High School student. She is an honor roll student who is dual enrolled at TAMUIU and is ranked seventh in her class.
She loves to dance "Folklorico" style dances and she is always willing to perform at school events like the 16 de Septriembre celebration. Yvana also enjoys poetry. She has recited poems at different school events like Grandparent's Day and, last year, she was invited to recite a poem at an event hosted at Texas A&M International University during Domestic Violence Awareness Month.
Yvana says she is appreciative for the opportunity to attend GECHS because of the different environments she gets to have both the high school and college experience. She is also very grateful for having the benefits of attending both schools.
Yvana is a member of several school organizations such as the Superintendent Student Advisory Council, Congressional Debate and Current Events UIL Teams, Phoenix Quarterly Newspaper, Yearbook, Student Council, and Sociedad Honoraria Hispanica. Yvana attends a modeling studio where she has developed and strengthened her public speaking skills and poise. She is an active member of her church, LULAC Youth Council and volunteers with the Martin High School Band.
Yvana plans on attending Incarnate Word University or UTSA to pursue a degree in biology or the medical field. After college she hope to become a pharmacist or dermatologist. She is the daughter of Eric and Rosie Guzman.